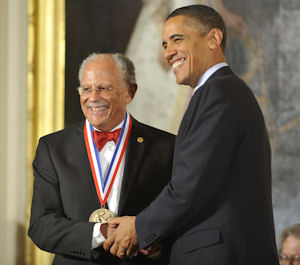 Warren M. Washington
National Center for Atmospheric Research
Warren Washington has been a scientist at the National Center for Atmospheric Research (NCAR) since 1963 and is head of the Climate Change Research Section in the Climate and Global Dynamics Division at NCAR. He is the Chair of the Presidential appointed National Science Board and he is an internationally recognized expert in atmospheric science and climate research, who serves on the Secretary of Energy's Department of Energy Biological and Environmental Research Advisory Committee (BERAC). He is a member of the American Philosophical Society, the National Academy of Engineering, the National Academies of Science Coordinating Committee on Global Change, and distinguished alumni of Oregon State and Pennsylvania State Universities. He is a fellow of American Meteorology Society and the American Association for the Advancement of Science. In 1994, Dr. Washington served as President of American Meteorological Society. He was awarded the National Medal of Science in 2010, and the Tyler Prize in 2019.
---
Books by Warren M. Washington
An Introduction to Three-Dimensional Climate Modeling, 2nd Ed.
---
View all Authors